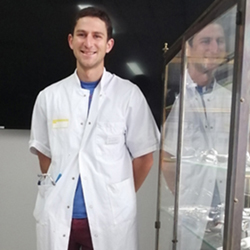 Jacob Paterno
Hello current (or future!) French students of UCCS.
A few years ago I was in your place, discovering the beautiful language of French, with its elegant pronunciation and complicated grammar. You never know what kinds of doors a language can open, because here I am now living in France, studying medicine!
Now you don't have to go as far as attempting medical school in France. But if you share in some « francophilia » like I do, there is a very rich culture waiting for you to discover, with who knows what kind of doors to open. Bonne continuation, et bonne chance!